2014 was another knockout year in Portland Radio. Despite an expanding array of new media options, radio still commands the attention of Maine's consumers in growing numbers. For this reason, radio continues to produce results for Maine small business owners. We thought you might enjoy the year's 10 most popular articles from Radio Results. If you would like to receive our blog articles when they are published, please click here. Without further ado, here are the top 10 radio articles of 2014:
1. Portland Radio After Dark: Who Listens At Night?
There are many things we know that just ain't so! Here's a picture of me on the Great Wall of China. It is a widely held belief that the wall is the only man-made object that can be seen from the moon. Well, that's just not true. This myth was born in 1932 in a "Ripley's Believe It or Not" cartoon that proclaimed the wall to be "the mightiest work of man, the only one that would be visible to the human eye from the moon." Neil Armstrong, who would walk on the moon 67 years later says he could only see continents, oceans, lakes, and splotches of white on blue. Armstrong says he could not make out any man-made objects on earth, 230,000 miles away. As a matter of fact, according to Scientific American, not only can't it been see from the moon, it really can't be seen from low earth orbit either.
Here's another thing we know that ain't so: Nobody listens to Portland Maine Radio at night. The origins of this legend are not quite as clear, but the facts are certain. Almost 40% of every one living in Southern Maine listens to the radio at night and it's a great time for small business owners to advertise. Read more…
_______________________________________________________________________________
2. Portland Radio: Advertising on Purpose
Legend has it that Ernest Hemingway was lunching with a number of writers and claimed that he could write a short story that was only six words long. Of course, the other writers balked. Hemingway told each of them to put ten dollars in the middle of the table; if he was wrong, he said, he'd match it. If he was right, he would keep the entire pot. He quickly wrote six words down on a napkin and passed it around; Papa won the bet. The words were "FOR SALE, BABY SHOES, NEVER WORN." A beginning, a middle and an end! This legend may be apocryphal, but none the less, it is a complete story in just 6 words. In contrast, while listening to Portland Radio, we are all exposed to sixty second commercials for Maine small business that use a luxurious 160 words but say nothing at all. Read more..
_______________________________________________________________________________
3. Quality Matters: Radio Advertising Wisdom For Maine Small Business
Sometime during the first century AD, Roman statesman Seneca The Younger uttered the greatest advertising advice ever: "Non refert quam multos sed quam bonos habeas." Translation: "It is quality rather than quantity that matters." Sadly, two thousand years later, many advertisers on Portland Maine radio stations have not heeded this wisdom. Instead, small business advertisers are seduced by the size of a station's audience and not the intrinsic quality of the audience. Fortunately, there are highly-regarded, non-biased research tools to help small business owners to make the best media buying decisions.
The cost of advertising on a radio station is, generally, directly proportional to the number of listeners it has. The most listened to station in Portland, therefore, is usually the most expensive on which to advertise. When advertising on a budget, however, the station with the greatest quantity of listeners may not be the best value for your marketing dollars because you will pay for every person who hears your commercial…even those listeners who may never buy your product or service. In many cases, smaller, less-expensive radio stations may be more likely to reach the customers you are seeking than the larger, more expensive stations. Read More…

_______________________________________________________________________________
4. Radio Ads: Highest ROI for Maine Small Business

Radio advertisers have known it for almost 92 years, but a new study confirms it. Research giant Nielsen Catalina found, on average, radio commercials produce a $6.00 sales lift for every $1.00 invested. According to Ad Age magazine, these findings indicate that advertisers can expect higher returns-on investment from radio than TV, digital, or social media. Small businesses who advertise on Portland, Maine area radio stations have found this to be true also.
Cathy Manchester, a Maine base real-estate agent, expanded her sales by 100% after investing in radio advertising for one year. Cathy says, "It's a rarity when calls [generated from radio ads] don't turn into business immediately." Michael Storey who owns a Portland area landscaping company said, "We experienced a 45% growth in one year once we went on the radio." Michael Major of Cunningham Security concurs. He says, "When we are not on the radio our phones don't ring." Read more…
_______________________________________________________________________________
5. What Maine Small Business Can Learn From Starbucks At 7:33am

Edgar Rice Burroughs wrote in one of his Tarzan books, "We are, all of us, creatures of habit." I am no exception. Every weekday morning at around 7:33am, with my radio blasting, I pull my car into the exact same space in front of the Starbucks in South Portland, Maine. I invariably a
lways see the same cars parked next to me. So much so that I know their license plates by heart (I'm talking to you CDM 9126). When I go inside, I see the same people sitting at the same tables…only the headlines of their newspaper have changed from the day before. I walk up to the same barista who asks, "Your usual?" She doesn't really wait for my response before she rings it into the cash register and scrapes up the $5.13 that I already had waiting on the counter.
Radio listeners are pretty much the same. The typical listener will spend almost 15 hours glued to their radio next week and at pretty much at the exact same time they listened to last week. Think of yourself. Your clock radio wakes you up most mornings at the same time with the same station. You climb into the car, adjust the mirrors, tune to your favorite station, and head to work at the same time. "We are, all of us, creatures of habit." Read More…
_______________________________________________________________________________
6. Five Things You Don't Know About Portland Maine Radio

Radio broadcasting began in Maine in 1925. Since then, there has never been a dull moment for the people of Portland and southern Maine. Here are five things, however, your probably don't know about Portland Maine Radio:
1. Comedian Billy Crystal worked at WBLM. Well his character Mitch Robbins did in the movie City Slickers. Actually, in the movie WBLM was in New York City and not on the Portland Maine radio dial. The call letters WBLM began its life playing what we used to call Beautiful Music (some called it elevator music). The station's call letters were a tribute to its hometown: Beautiful Lewiston, Maine. The call letters appeared in City Slickers, though, as a tribute to the film's writer BabaLoo Mandell. It is also interesting to note that radio legend Howard Stern once applied for a position on the real WBLM but was turned-down…shocking! Read More…
_______________________________________________________________________________
7. Radio Still Packs A Punch For Maine Small Business
Four years before the first Portland, Maine radio station took to the air, a watershed moment in the history of broadcasting was taking place 325 miles away in Jersey City, New Jersey. On July 2, 1921, with a stolen
transmitter from the navy yard in Hoboken (not the first time something went missing in Hoboken), radio station WJY would broadcast the first play-by-play sporting event ever. The event was a match between the heavyweight boxing champion-of-the-world, Jack Dempsey, and challenger Georges Carpentier. Although the fight only lasted 4 rounds and was heard by only 300,000 people throughout the Northeast, historian David Halbetsram called the event "an epochal success…a springboard to radio's enormous national growth."
More than 93 years after "the fight of the century" the audience for radio is still growing and that is good news for Maine small business. One year after that historic boxing match, the first radio commercial was broadcast. It was an advertisement for a real estate company in Queens, New York. Portland, Maine real estate Cathy Manchester continues the tradition today. She claims in a recent article that radio advertising doubled her sales in just one year. These results are not unusual. According to research firm Nielsen-Catalina, radio commercials, on average, produce a $6.00 sales lift for every $1.00 invested. Ad Age magazine states that, the Nielsen study indicate that advertisers can expect higher returns-on investment from radio than TV, digital, or social media. Read more…

_______________________________________________________________________________
8. What Casey Kasem Taught Maine Small Business Owners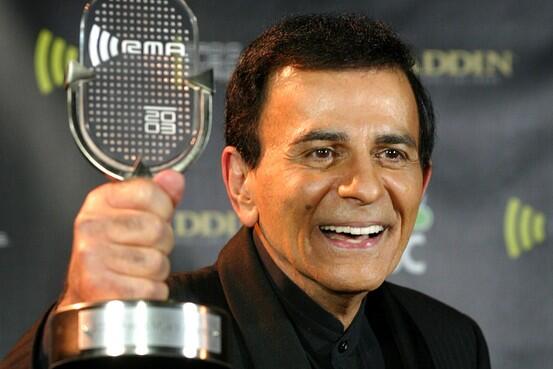 More than 150,000 people will die today. Most of these deaths we will never learn about. But this morning when radio personality Casey Kasem passed away, almost instantly the news started showing up in my Twitter feed from The New York Times, The Wall St. Journal, The Portland Press Herald, and The Huffington Post. The news showed up in hundreds of posts and shares in my Facebook news feed. Cleary, Casey was one of America's best friends.
I never met Casey. But like millions of other Americans, I invited Casey into my home every weekend. I counted on him to let me know what were the top 40 songs throughout the land and to remind me to keep my feet on the ground and to keep reaching for the stars. When I received the news this morning of Casey's death, I felt a pang of nostalgia like I might when I learn about the passing of a childhood friend. Why is that? Read More…
_______________________________________________________________________________
9. Portland Maine Radio: Word-of-Mouth A Million Ears At A Time

In a recent poll, 40% of small business owners ranked word-of-mouth advertising as their most powerful marketing tool. Although word-of-mouth has benefited from social media such as Facebook and Twitter, the transmission of word-of-mouth advertising is usually slow because it typically travels from one-mouth-at-a-time to two-ears-at-a-time. Radio in Maine, however, is like word-of-mouth on steroids. The advertising message of a Maine small business can travel from a single mouth to over one million ears in a very short period of time. Here are some great examples how radio puts its mouth where the customers ears are. Read more…

_______________________________________________________________________________
10. Maine Small Business Asks: How Long Should My Radio Commercial Be?
I am often asked by Maine small business owners, "How long should my radio commercial be?" This query always conjures up the ghost of Abraham Lincoln who, when asked how long should a man'
s legs be, responded, "long enough to reach the ground." I am sure Mr. Lincoln would say the same thing about radio commercials: they should be long enough to get the job done.
Most Maine radio stations give advertisers the choice of how long commercials can be: 60-seconds; 30-seconds; 15-seconds; or 10-seconds. According to the Small Business Guide To Effective Radio Advertising, the length of commercial should "afford the advertiser enough time to advance her marketing objective." Read more..

_______________________________________________________________________________
Free Download For Maine Small Business Owners